24 Apr

No distortion here

There is a new exciting breakthrough in treating and healing pinched nerves. Back and neck pain, headaches, numbness or tingling anywhere in the body can be caused by pinched nerves. Chiropractors believe in treating the source of the problem effectively and naturally. One should not have to rely on medication to get through the day, as drugs tend to mask the problem rather than treating it at the source. With the Pulstar Technology, Chiropractic is taken to the next level.
What is the Pulstar? It is an advanced computer and engineering technology, with a hand-held device that allows Doctors of Chiropractic to both analyze and treat the human body in ways never realized before. Newborns, as well as the elderly with osteoporosis can be treated safely and gently with this innovative mechanism.
How does it work? The Pulstar computer system uses a piezoelectric sensor in the soft-tipped instrument to administer aprecise oscillating force which measures specific levels of jointmotion in a relaxed, effective manner. With the patient sitting in an upright position, the treatment is performed comfortably, without any turning or sudden movements. Data is then transferred and displayed on the computer monitor, allowing the doctor to isolate and treat the problem area faster and more accurately than manual procedures. Following the treatment, the Pulstar's sophisticated re-analysis allows both the patient and the doctor to chart all progress toward successful recovery.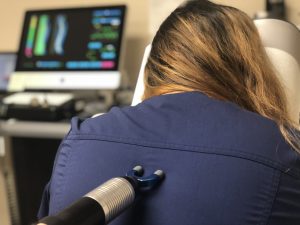 If you or someone you care about is experiencing the effects of pinched nerves and you are not under chiropractic care, NOW is the best time to start. Remember, it's always best to rule out pinched nerves before other symptoms start. HB
For more information on Pulstar, contact Dr. Jensen at JensenChiropractic, (775) 323-1222.
Written by Dr. Tony Jensen.
---
For full article check out https://edition.pagesuite.com/html5/reader/production/default.aspx?pubname=&pubid=d1bd9d02-acb3-4476-a1c8-74e6bbddb547
Healthy Beginnings Magazine Page 23