Dr. Tony Jensen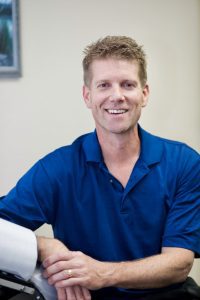 Dr. Jensen knew he wanted to become a doctor at a young age, but didn't know what kind. He was inspired to go into the field of chiropractic care while working as an aid at a physical therapy office. After seeing a patient that wasn't getting better with physical therapy and then the remarkable progress after seeing a chiropractor, he knew what he wanted to specialize in. Both the physical and religious connection was the perfect fit for him. Dr. Jensen attended Parker College of Chiropractic in Dallas, Texas. He is a board certified doctor of chiropractic care for the state of Nevada.
In his spare time Dr. Jensen enjoys scuba diving, anything in the mountains including biking and hiking, group sports and most importantly spending time with his family and God. Dr. Jensen has been married for over 25 years and has four children, two girls and two boys.
Dr. Jensen has been involved in BNI – Business Networking International for over nine years and the Reno Rodeo Jean Drive. He is also a proud member of the Eagle Scouts.